OPTIMVENT GIANT FANS IN INDUSTRY
One of the current challenges in the industries is to maintain stable and constant manufacturing processes.
One of the factors that must be controlled are the thermal comfort conditions of the workers and the thermal conditions for the correct operation of the machinery.
To maintain thermal comfort in industries, the giant OptimVent fans are the right and most efficient solution.
Do you want more information about HVLS Fans?

BEST SOLUTION FOR THERMAL COMFORT PROBLEMS IN INDUSTRY
Heat is an inevitable reality in many manufacturing processes. But when hot and humid conditions affect workers, the result is lost production, malfunctioning machinery and a significant increase in human error and occupational hazards.
In large industrial spaces, addressing the thermal comfort of workplaces with air-conditioning machines is not the best solution. It is neither effective nor feasible, since the high investment costs of the equipment and the monthly energy expenditure rule out such a solution.
OptimVent industrial fans, with diameters of 2.5 to 7m, reduce the workers' wind chill by up to 6°C, as they move large quantities of air at low speed and generate a breeze effect where workers are located
BEST SOLUTION TO PREVENT HEAT LOSS IN HEATED INDUSTRIES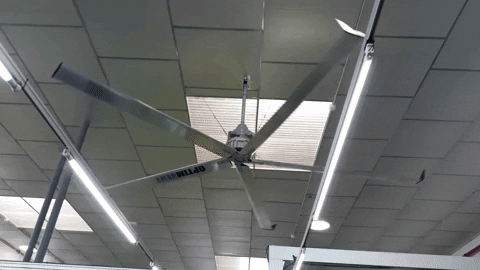 The struggle to control temperatures within your facilities presents problems every season. In the coldest months, if there is any heating at all, it is cold at ground level and hot escapes to the ceiling, causing workers to have poor working conditions andastronomical energy bills.
OptimVent's giant HVLS fans, with their large air movement capacity, mix the hot air, maintaining a homogeneous temperature throughout the industrial space.
GIANT INDUSTRIAL FANS OPTIMVENT THE BEST SOLUTION FOR INDUSTRY
HUMIDITY CONTROL IN INDUSTRY
Daily temperature differences can lead to moisture condensation on the ground and on machinery. These poor conditions increase the risk of production delays, product damage and health and safety incidents.
Moving the air at low speed, with the giant OptimVent ceiling fans, avoids moisture condensation and the risks associated with it.
Thanks to IP 65, their high resistance to dust and water makes OptimVent fans ideal for working in industrial environments with always difficult environmental conditions. In addition, our fans have Direct Drive (brushless) and EC type (without frequency converter) motors. Both elements provide a long life span reducing maintenance to a minimum.
Do you have any questions about HVLS Fans?
Contact our expert team and we will be able to solve all your doubts, but in the meantime, we have prepared answers to some of the most frequently asked questions.